Congressman Says Psychedelics Can Be A Therapeutic 'Game Changer,' But Other Lawmakers' Resistance Is 'Embarrassing'
September 08, 2022
#KahliBuds #MMJ #CBD #THC


The conversation around psychedelics reform has been gradually trickling up to Capitol Hill amid successes in the local and state decriminalization movement. But one congressman who supports therapeutic access to the substances tells Marijuana Moment that it's "embarrassing" how slow other federal lawmakers have been to evolve on the issue.
In 2019, Rep. Jared Huffman (D-CA) was one of just 91 House members who voted in favor of a modest amendment to lift psychedelics research barriers from Rep. Alexandria Ocasio-Cortez (D-NY). Nearly 150 of his Democratic colleagues joined all but a handful of Republicans in rejecting the measure.
Two years later, the amendment was reintroduced and defeated again, though it did garner more Democratic support that round.
The momentum has translated into some action so far this year—but not quite at the scale of reforms that are being pursued in localities and states across the country.
In July, the House voted in favor of two psychedelics-related amendments to a defense bill. One from Ocasio-Cortez would require a study to investigate psilocybin and MDMA as alternatives to opioids for military service members, while the other from Rep. Dan Crenshaw (R-TX) would authorize the defense secretary to provide grants for studies into several psychedelics for active duty service members with PTSD.
These developments, while incremental, do signal that Congress is paying closer attention to the issue. But Huffman told Marijuana Moment in a phone interview on Wednesday that many of his colleagues continue to hold outmoded views about psychedelics that are creating barriers to more impactful reform.
Part of the reason behind the congressional momentum of late is the psychedelics policy reform renaissance, which can be traced back to Denver's historic 2019 vote to decriminalize psilocybin mushrooms. It set off a national movement, with numerous cities following suit and some expanding on the reform. States as ideologically disparate as Texas and Connecticut have taken legislative steps to enact laws to promote research into entheogenic substances as novel medicines.
But as with the largely state-driven marijuana movement, Congress has not kept pace.
"I am all for allowing health care providers and medical professionals to use this substance in beneficial ways," Huffman told Marijuana Moment. "I've read enough to know that there are really compelling benefits to these drugs if they're used properly."
"I mean, put the recreational issue aside for a minute," he said, adding that his interest lies in the therapeutic potential of psychedelics to treat conditions such as substance misuse and depression. "A growing body of research shows this can be a game changer. I think that is just an incredibly compelling case. And on the other side, I basically hear a lot of dogma from the 1950s."
Psychedelics policy in Congress has attracted some bipartisan bedfellows.
There are progressive Democrats like Ocasio-Cortez, Rep. Earl Blumenauer (D-OR) and Sens. Cory Booker (D-NJ) and Brian Schatz (D-HI). Then there are GOP members like Sen. Rand Paul (R-KY) and Crenshaw and Reps. Matt Gaetz (R-FL) and Nancy Mace (R-SC) who've also worked across the aisle to advance the issue.
But beyond congressional letters, a "Right to Try" bill introduction, some recent spending report language and research amendments with mixed reception, it doesn't seem especially likely that the kind of broad psychedelics reform that's being pursued locally and at the state level will permeate into Capitol Hill in a meaningful way any time soon.
"I think it's further away, frankly. I mean, the AOC amendment just got crushed," Huffman said. "And, you know, notwithstanding me and others who have read Michael Pollan's book [on psychedelics] and are somewhat evolved on the subject, there's a lot of thinking that is not yet evolved."
"It's embarrassing. It's backward. You know, pick your adjective. But that's the way it still is," the congressman said. "The Overton window has not caught up with psychedelics yet."
Again, drawing a parallel to the cannabis legalization movement, activists and state lawmakers aren't waiting for Congress to take action.
Just this week, local San Francisco lawmakers unanimously approved a measure calling for the decriminalization of psychedelics like psilocybin and ayahuasca—locally, in the state and federally.
The resolution makes a point to note that the "state legislature has already started the conversation around the decriminalization of personal possession of small amounts of seven psychedelic substances," in the form of a bill from California Sen. Scott Wiener (D) that passed the Senate and several Assembly committees before being significantly scaled back in a final panel and ultimately pulled by the sponsor.
—
Marijuana Moment is tracking more than 1,500 cannabis, psychedelics and drug policy bills in state legislatures and Congress this year. Patreon supporters pledging at least $25/month get access to our interactive maps, charts and hearing calendar so they don't miss any developments.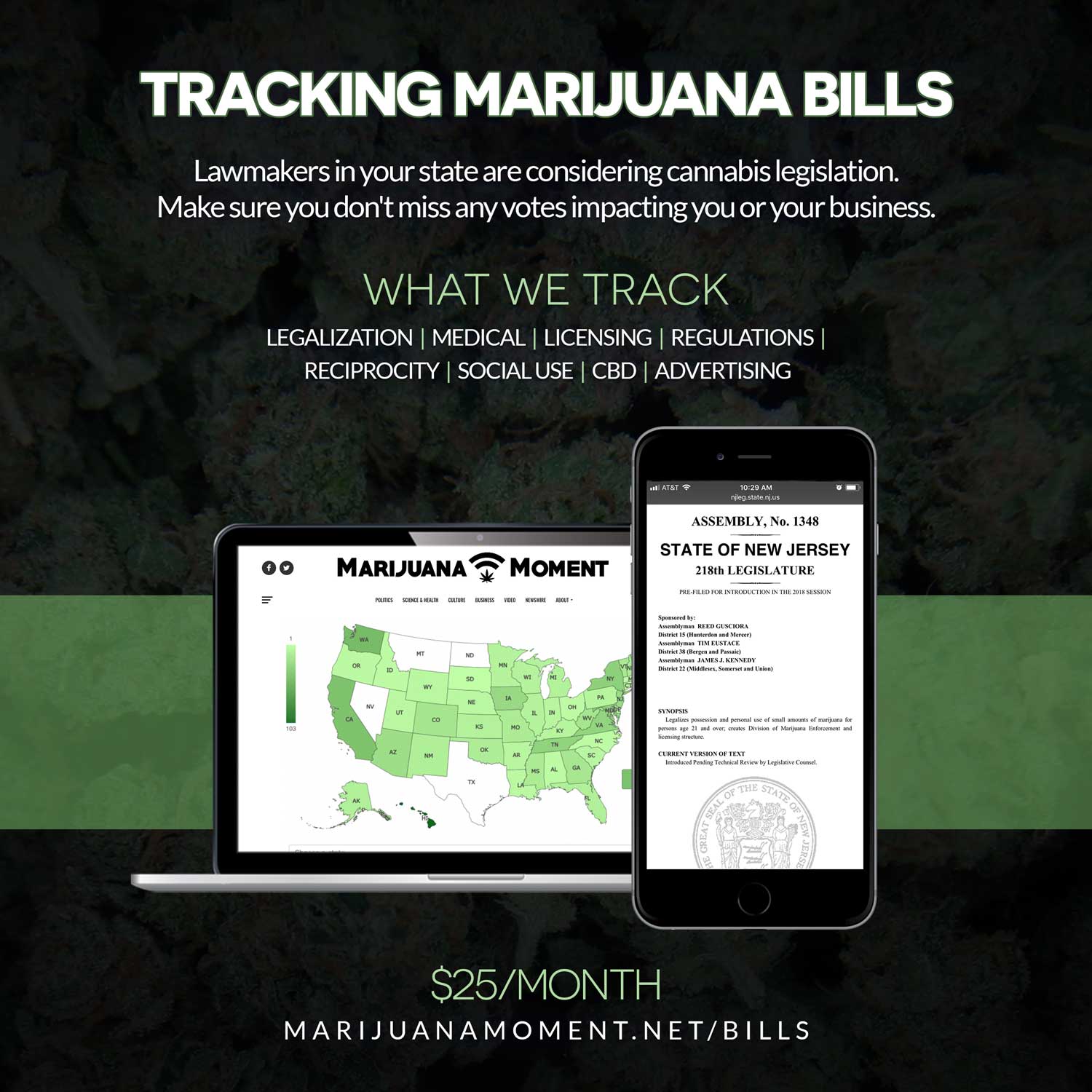 Learn more about our marijuana bill tracker and become a supporter on Patreon to get access.
—
Local psychedelics decriminalization has been enacted in several major cities in recent years, including Oakland, Detroit, Seattle. A slew of Massachusetts cities have taken similar steps. Voters in the nation's capital of Washington, D.C. also decriminalized.
In 2020, Oregon went even further, with voters passing a ballot measure to legalize psilocybin mushrooms for therapeutic use, while also enacting broad drug decriminalization. And this November, Colorado voters will get the chance to make history once again, with an initiative to legalize psychedelics possession for adults and create psilocybin "healing centers" in the state.
Republicans like Crenshaw, Gaetz and Mace may be party outliers in their support for a federal psychedelics policy change, but it's not difficult to find examples of lawmakers in traditionally conservative state legislatures at least expressing interest in exploring the issue.
Georgia lawmakers discussed the therapeutic potential of psychedelics like psilocybin for serious mental health conditions at a hearing focused on military veterans last week.
Lawmakers on the panel discussed legislation enacted in Texas last year that requires the state to study the therapeutic potential of psychedelics.
The day after the Georgia committee held its psychedelics hearing, lawmakers in Missouri met to discuss possible solutions to the military veterans' mental health and suicide crisis, with several people testifying about the possible therapeutic potential of psychedelics for the at-risk population.
Missouri Rep. Tony Lovasco (R) introduced a psychedelics reform bill for the 2022 session. It was addressed during a hearing in the House Health and Mental Health Policy Committee in March, but it did not advance.
Federal health officials are also taking note of the increased adult use of certain entheogenic substances. As National Institute on Drug Abuse (NIDA) Director Nora Volkow put it earlier this year, the "train has left the station" on psychedelics.
The U.S. Department of Health and Human Services (HHS) recently said that it is actively "exploring" the possibility of creating a task force to investigate the therapeutic of certain psychedelics like psilocybin and MDMA in anticipation of federal approval of the substances for prescription use.
That came in response to letters from bipartisan congressional lawmakers, state legislators and military veterans, who implored the HHS secretary to to consider establishing an "interagency taskforce on the proper use and deployment of psychedelic medicine and therapy."
Still, with marijuana still a federally controlled substance decades after states started to legalize the plant for medical and recreational use, the prospect of a seismic shift in Congress when it comes to federal psychedelics policy does not appear imminent. That being said, the conversation on the Hill is growing louder.
Senate Marijuana Banking Sponsor Gives Details About Forthcoming 'SAFE Plus' Reform Package
Photo courtesy of Dick Culbert.
The post Congressman Says Psychedelics Can Be A Therapeutic 'Game Changer,' But Other Lawmakers' Resistance Is 'Embarrassing' appeared first on Marijuana Moment.
420GrowLife
via www.KahliBuds.com
Kyle Jaeger, KahliBuds, 420GrowLife