San Francisco Officials Ready To Authorize Safe Drug Consumption Sites Despite Governor's Veto
August 23, 2022
#KahliBuds #MMJ #CBD #THC


The city of San Francisco is prepared to defy the governor and launch a safe drug consumption site program despite his decision to veto a bill authorizing such facilities on Monday.
Shortly after Gov. Gavin Newsom (D) announced that he had vetoed the legislation from Sen. Scott Wiener (D), San Francisco City Attorney David Chiu released a statement saying that he "fully" supports allowing a non-profit to move ahead with offering the harm reduction services in order to "save lives."
He suggested that the organization could be modeled after the first sanctioned safe consumption sites that opened in New York City late last year.
San Francisco Mayor London Breed (D) also seemed to tentatively endorse the idea, calling Newsom's veto "disappointing" and writing that the city "will keep working with our community partners to find a way forward, and we will also continue to advocate to the federal government about this critical public health response."
"We've got work to do, but we aren't stopping," she said.
We will keep working with our community partners to find a way forward, and we will also continue to advocate to the federal government about this critical public health response. We've got work to do, but we aren't stopping.

— London Breed (@LondonBreed) August 22, 2022
"We remain committed to building on the city's drug overdose response to combat San Francisco's street drug crisis, save lives and help connect more people to treatment and services," Breed said in a statement to The San Francisco Chronicle.
Wiener, for his part, commended the city attorney and said that, with two governors now having vetoed safe consumption site legislation, "it's crystal clear the state isn't going to step up."
I agree with @DavidChiu. With two successive Governors vetoing this bill, it's crystal clear the State isn't going to step up. San Francisco needs to take matters into its own hands & open up safe consumption sites to save lives. https://t.co/A5I99TEJxA

— Senator Scott Wiener (@Scott_Wiener) August 22, 2022
"San Francisco needs to take matters into its own hands & open up safe consumption sites to save lives," he said.
While Newsom wrote in his veto message that he doesn't feel there's "strong, engaged local leadership" to sustain an effective pilot program for overdose prevention sites, advocates, health experts and local government leaders in San Francisco are challenging that perspective.
They argue that they've already spent years developing the infrastructure for the harm reduction program and engaging with the legislature on SB 57. Breed had also issued an emergency ordinance early this year that effectively authorized a non-profit to open a safe consumption site called the Tenderloin Center, though there's been some criticism about the rollout of the program.
The San Francisco Standard reported that there are three organizations that are considered adequately prepared to launch the sites in the city: Healthright360, Glide and the San Francisco AIDS Foundation.
Across the Bay, Oakland Mayor Libby Schaaf (D) called the governor's veto "incredibly disappointing," but she said she was encouraged by Newsom's commitment to having the state health secretary convene local officials to develop a more limited plan with best practices in place to eventually permit safe consumption facilities.
Advocates are skeptical about Newsom's justification for the veto, pointing out that he's previously expressed openness to the "novel strategy" and has a record of embracing bold reforms before they were widely accepted.
Recent reporting has suggested that the governor's hesitancy over the bill had more to do with political considerations as he's raised his national profile, with some speculating that he's preparing for a 2024 run for the Democratic presidential nomination if President Joe Biden doesn't seek a second term.
Even then, however, it's hard to square the veto with the fact that polling shows a majority of Americans across political lines favor the harm reduction proposal.
The now-vetoed bill would have authorized San Francisco, Los Angeles, Los Angeles County and Oakland to open overdose prevention sites under an initial pilot program, lasting through January 1, 2028.
Jurisdictions that chose to participate in the pilot program would have also needed to choose a single entity that they would have funded to conduct a peer-reviewed study of the efficacy and community impacts of authorizing the harm reduction centers statewide.
The measure's sponsor, Wiener, also championed a bill to legalize psychedelics possession in California that cleared the Senate and several Assembly committees. But he shelved it this month after a final committee gutted the main components, leaving just a study component.
When it comes to safe consumption sites, Rhode Island Gov. Dan McKee (D) signed a similar harm reduction bill last year. And the the first sanctioned overdose prevention sites in the U.S. opened in New York City late last year, with local health officials affirming that the programs are saving lives.
New York City Mayor Eric Adams (D), a retired police officer known for his law-and-order ideology, has since proposed keeping the sites open for 24-hours after seeing both the demand for the services and the overdose prevention efficacy.
"That speaks volumes because he knows that these sites have been very successful in New York City in the nearly one year that they've been in effect," Wiener told Marijuana Moment in a recent interview. "Whatever the controversy, this is an idea that a lot of different people can get behind."
A study published by the American Medical Association (AMA) last month found that the those safe consumption drug sites have, in fact, decreased overdose risk, steered people away from using in public and provided other ancillary health services to people who use currently illicit substances.
The research letter, published in AMA's Journal of the American Medical Association, looked at data the New York City data over the course of two months. It found that trained staff at the sites intervened in 125 instances to mitigate overdose risk, administering naloxone and oxygen and providing other services to prevent deaths.
While New York is allowing the harm reduction centers to operate, federal statute has been interpreted as barring such facilities, and the Justice Department is actively in litigation that started during the Trump administration over a Philadelphia-based non-profit organization's attempt to open a safe consumption site.
However, the White House drug czar recently said that the Biden administration is reviewing broader drug policy harm reduction proposals, including the authorization of supervised consumption sites—and he went so far as to suggest possible decriminalization.
—
Marijuana Moment is tracking more than 1,500 cannabis, psychedelics and drug policy bills in state legislatures and Congress this year. Patreon supporters pledging at least $25/month get access to our interactive maps, charts and hearing calendar so they don't miss any developments.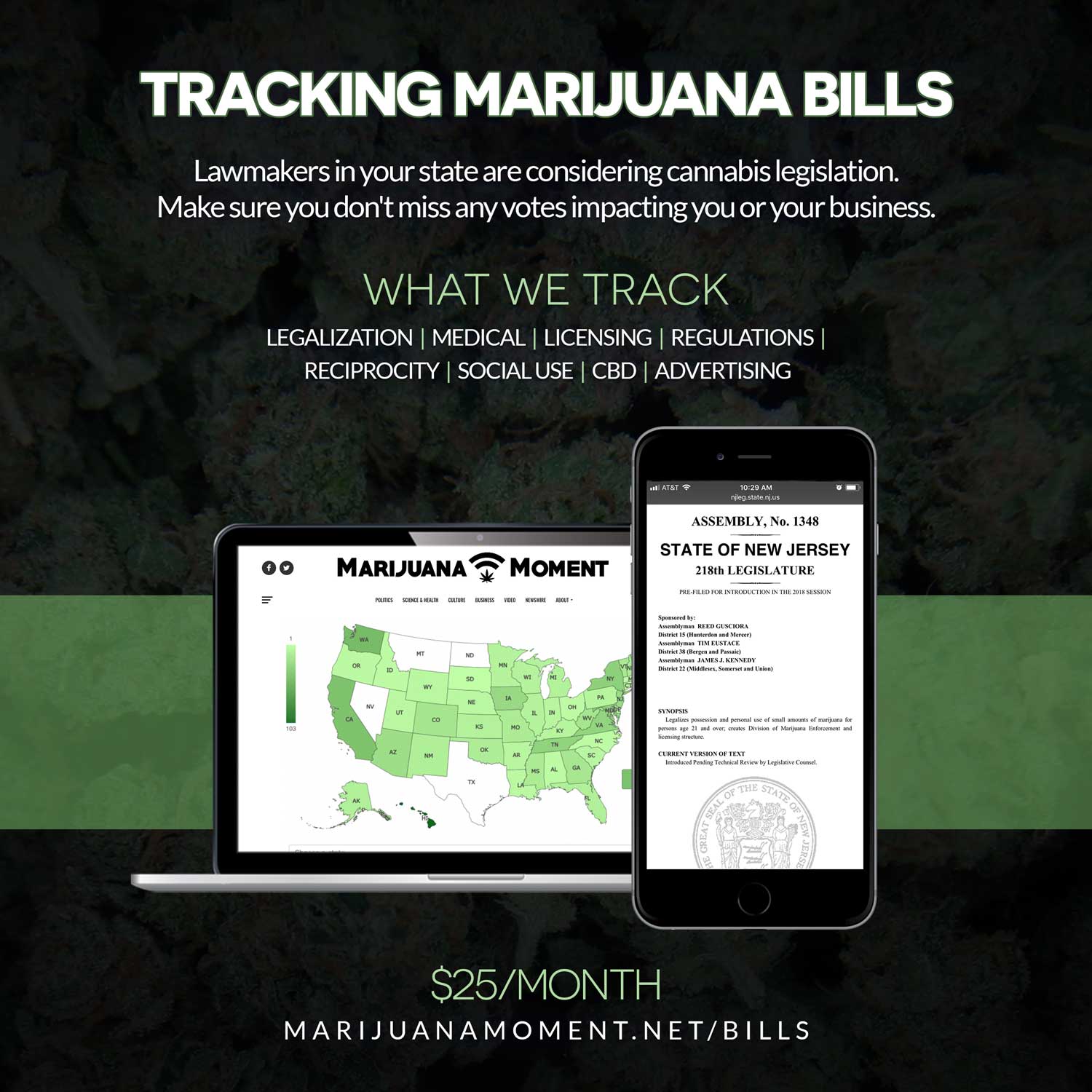 Learn more about our marijuana bill tracker and become a supporter on Patreon to get access.
—
While the Biden administration is still investigating the clinical efficacy of such facilities, Office of National Drug Control Policy (ONDCP) Director Rahul Gupta said that the proposal to lift the existing federal ban is on the table.
DOJ said in February that it is actively "evaluating supervised consumption sites, including discussions with state and local regulators about appropriate guardrails for such sites, as part of an overall approach to harm reduction and public safety."
In October, the Supreme Court rejected a request to hear a case on the legality of establishing the Safehouse facilities, but the case is still before a lower federal court. Safehouse plaintiffs say that they've had "productive" conversations with DOJ in recent months, which is part of the reason why they've mutually agreed to extend the deadline for a federal response in the case several times.
The National Institutes of Health (NIH) put out a pair of requests for applications (RFAs) in December for an effort that will provide funding for efforts to investigate how that and other harm reduction policies could help address the drug crisis.
Gupta previously said that it's critical to explore "any and every option" to reduce overdose deaths, and that could include allowing safe consumption sites for illegal substances if the evidence supports their efficacy.
The secretary of the U.S. Department of Health and Human Services (HHS), Xavier Becerra, has also signaled that the Biden administration would not move to block the establishment safe injection sites, stressing that "we are literally trying to give users a lifeline."
But a department spokesperson later walked those remarks back, stating that "HHS does not have a position on supervised consumption sites" and the "issue is a matter of ongoing litigation." In any case, it would be up to DOJ to decide whether to pursue operators of the facilities under the Controlled Substances Act.
When Becerra served as California attorney general he signed onto a brief with counterparts from other states when the Safehouse case was before a federal appeals court.
"The opioid epidemic has devastated communities throughout our nation. Safe injection sites aim to increase public health and safety by providing comprehensive services to victims of the opioid epidemic, while reducing the public nuisance of drug use in public spaces," he said at the time. "Safe injection sites like Safehouse are an innovative tool to combat the opioid epidemic and drug dependency while reducing overdose death and transmission of diseases. California has always been a trailblazer, and we're committed to doing what it takes to keep our communities healthy and safe."
Meanwhile, a New York Assembly committee also advanced a bill in May to establish a statewide safe consumption site program, allowing regulators to authorize facilities where people could use currently illicit drugs in a medically supervised environment.
In a setback for advocates, however, Vermont's governor vetoed a bill in June that would have simply created a working group tasked with crafting a plan to open safe consumption sites.
New York City Mayor Launches Marijuana Resource Hub To Support Industry Equity As State Prepares To Accept First Retailer Applications
IMage courtesy of Dima Solomin.
The post San Francisco Officials Ready To Authorize Safe Drug Consumption Sites Despite Governor's Veto appeared first on Marijuana Moment.
420GrowLife
via www.KahliBuds.com
Kyle Jaeger, KahliBuds, 420GrowLife