Is Cory Booker Ready To Embrace Marijuana Banking Reform? New Comments Hint At Possible Pivot
July 27, 2022
#KahliBuds #MMJ #CBD #THC


Sen. Cory Booker (D-NJ) has long carried the torch of social justice in marijuana reform efforts, defiantly resisting calls to pass cannabis banking legislation before comprehensive legalization is enacted. But comments the senator made at a committee hearing he convened on Tuesday are catching attention, leaving some with the impression that the senator does see a path forward for some version banking reform in the short term.
Booker is the lead sponsor of a newly filed Senate legalization bill, alongside Senate Majority Leader Chuck Schumer (D-NY) and Senate Finance Committee Chairman Ron Wyden (D-OR). The legislation was a key talking point at the hearing before the Senate Judiciary Subcommittee on Crime that Booker chairs—but there was also some revealing discussion of the bipartisan Secure and Fair Enforcement (SAFE) Banking Act near the end of the meeting.
Booker talked about concerns with the economic status quo of the cannabis industry, especially as it relates to the negligible representation of minority-run businesses. Unlike socially and economically disadvantaged entrepreneurs, larger marijuana corporations have been able to thrive despite prohibition because they already have access to capital and financial services, he said.
"What frustrates me is that the exclusion of communities that have been most persecuted by the prohibition of marijuana are not represented in the billion dollar industry that continues to grow and have influence in the same way that alcohol does," the senator said.
Booker talked about a recent experience he had in Illinois, where he met with Black cannabis entrepreneurs who have been forced to take out mortgages on their homes, sell their belongings and financial cripple themselves to stay afloat in the industry because they don't have access to traditional financial services and capital. What ends up happening, he said, was that many small marijuana businesses are bought out by larger corporations, concentrating the wealth in the sector, or using minority-run storefronts "as a showpiece to hide behind where the real capital and profit can be made by the wealthier interests."
"Is this too simplistic?" Booker asked one of his witnesses. "By not allowing something like SAFE Banking and opening the banking rules, we're actually creating a reality by constricting it—that this is going to be a business that's going to move forward, because states are moving, that's going to allow the people who already have resources, already have wealth and access, to get the opportunities—and people from lower income backgrounds, backgrounds with criminal past marijuana convictions, to really get entirely squeezed out."
While phrased in the form of a question, that rhetoric—and the seeming recognition that SAFE Banking could play a key role in promoting industry equity, as its supporters have argued—seems distinct from how Booker has previously talked about SAFE Banking, which has passed the House seven times in some form but consistently stalled in the Senate, in no small part due to his opposition to bringing it to a vote.
Despite the fact that marijuana is used at comparable rates by white and Blacks Americans, they are arrested nearly 4 times as much as their whites peers for marijuana possession.

— Sen. Cory Booker (@SenBooker) July 27, 2022
Booker and other colleagues like Schumer have in the past suggested the SAFE Banking would principally benefit large corporations, devoid of the types of targeted equity component that they're pushing for in broader legislation like the new Cannabis Administration and Opportunity Act (CAOA).
"I don't know about other members of the Senate, but I will lay myself down to do everything I can to stop an easy banking bill that's going to allow all these corporations to make a lot more money off of this, as opposed to focusing on the restorative justice aspect," Booker said last year, for example.
But the concerted push by other lawmakers—and internal discussions about potentially moving an expanded banking bill with equity provisions added—seems to be moving the needle for the senators.
Following Tuesday's hearing, a reporter pressed Booker on his remarks about SAFE Banking, and the senator responded by saying that he's "always understood the urgency" of the bill.
—
Marijuana Moment is tracking more than 1,500 cannabis, psychedelics and drug policy bills in state legislatures and Congress this year. Patreon supporters pledging at least $25/month get access to our interactive maps, charts and hearing calendar so they don't miss any developments.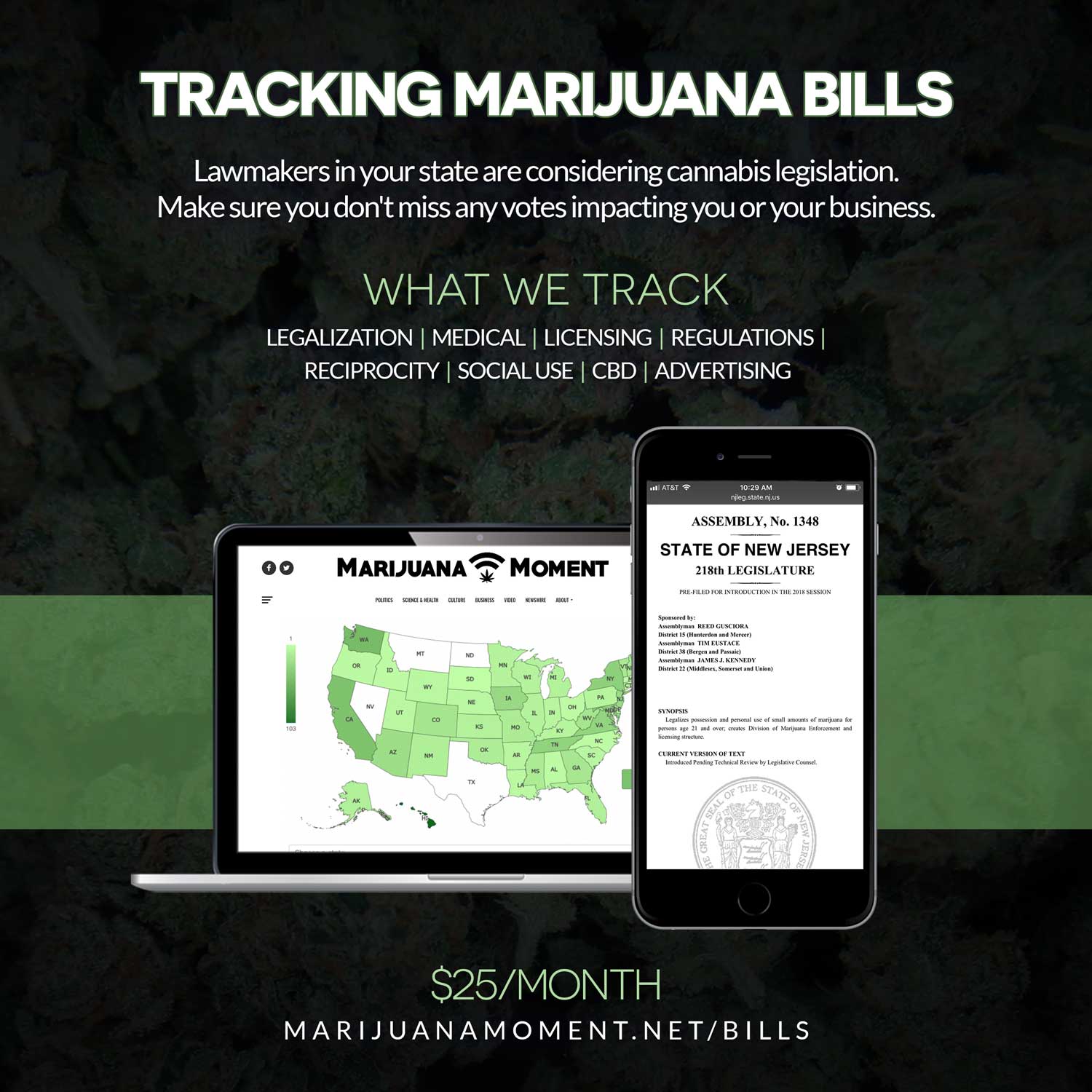 Learn more about our marijuana bill tracker and become a supporter on Patreon to get access.
—
"But, strategically, I want folks to know that if we just do SAFE Banking, we may not ever see restorative justice things, at least not in the short term," Booker told nj.com reporter Jonathan Salant in an audio clipped shared with Marijuana Moment by the senator's staff. "And the ability to get SAFE Banking combined with restorative justice principles to me is an achievable effort and worth it. But there's an urgency. Every day that the banking industries are not open to small business people, they're getting hurt, and we need to rush to get that done."
"We should not leave behind many of those people who have low-level drug offenses for doing things that presidents and senators have done, but they're suffering lifetime consequences for it," Booker said. "So I want to try to get as much done as possible, and I think there's a real coalition strategy to try to get SAFE Banking plus restorative justice… There's a lot of conversations going on on both sides of the aisle."
What he seemed to be alluding to is a package of incremental marijuana reforms that Schumer has been discussing with bicameral and bipartisan offices, even as he continues to make the case for CAOA. While no deal has been finalized, the thinking is that passing SAFE Banking, along with other modest policy changes like promoting cannabis research, veterans' medical marijuana access and federal Small Business Administration (SBA) access could garner enough support to make it through Congress this year.
In another somewhat surprising moment where he voiced the long-held concerns of the industry, Booker also said at the hearing that he's aware of the fact that marijuana businesses are looking for fair treatment under federal tax code. Without specifically referencing the IRS code known as 280E that keeps cannabis businesses from making tax deductions or earning credits that are afforded to other legal markets, the senator said that fixing the problem could help legitimate marijuana companies "out-compete this illegal market and eventually put it further and further into the rear-view mirror."
here are the comments regarding 280e (w/o saying 280e).

(remember Wyden mentioned 280e less than a month ago, in comments) pic.twitter.com/8eqL9LXvHB

— WallStreetUnicorn (@WallStUnicorn) July 26, 2022
Rep. Earl Blumenauer (D-OR), a long-time advocate for federal legalization who also feels strongly that Congress needs to enact SAFE Banking as soon as possible, said during a U.S. Cannabis Council (USCC) briefing on Wednesday that he spoke with Booker about the issue last week, and they had a "great conversation" about finding areas of compromise.
"I think the senator is fully aware of the consequences of this failed policy of prohibition in terms of what it does with the SAFE Banking Act and the threat that is made to the very communities he wants to support," the congressman said in response to a question from Marijuana Moment. "I think he's trying to be able to thread the needle."
Blumenauer said that he conveyed to Booker that "the very people that he cares about most in terms of equity and inclusion are the people who are paying the price" and "being wronged" by the failure of Congress to enact cannabis banking reform.
"They are the ones who have dispensaries that are not fully capitalized, that can't afford the extra carrying costs that big companies can do to make up for the lack of banking services," he said. "I think Cory is sensitive to that. I think he understands the imperative, and I am hopeful that he will work with us to be able to have a path forward so that the Senate is not the obstacle."
He emphasized that, "if the politics fall apart this year [and Democrats lose control] of the House or the Senate, we could be stepping back for who knows how long—a decade or more—and I think he's aware of that as well," Blumenauer said.
It's time to expand our horizons with legislation that ends the prohibition on marijuana and provides economic and restorative justice. It'll take all of us coming together to reckon with our past to understand the pain communities of color have felt for years.

— Sen. Cory Booker (@SenBooker) July 27, 2022
Some advocates and stakeholders were also quick to pick up on Booker's signal of a possible pivot on marijuana banking at Tuesday's hearing.
"While Sen. Booker's statements on banking during the hearing were not definitive, he clearly recognizes that increased access to the financial system would be a net benefit," Morgan Fox, political director of NORML, told Marijuana Moment. "It is indicative of a softening of his rhetoric on the issue that we've been seeing over the past weeks when it comes to the idea of passing incremental reforms before a comprehensive descheduling bill."
David Mangone, director of policy at The Liaison Group, also pointed out that Booker's home state of New Jersey has legalized marijuana in the months since the senator first strongly spoke out against moving the banking bill before broader reform.
"I think that has to factor into how he's positioning around SAFE Banking at least a little bit," Mangone said. "Now that you have dispensaries that are open beyond the original medical operators in New Jersey, I think that has to have had added a little bit of pressure."
While many stakeholders and advocates felt encouraged by Booker's comments at the hearing, others have made clear that they view the SAFE Banking Act as drafted is inadequate, challenging the idea that it would empower small- and minority-owned businesses in the industry.
"The SAFE Banking Act in its current form will not provide adequate support or opportunity for people of color in the marijuana industry," Martiza Perez, director of the office of national affairs at DPA, told Marijuana Moment. "Without descheduling, and explicit support and protections for minority-owned small businesses and financial institutions, we will not see an inclusive industry."
"Racial equity must be intentional and baked into policy," she said, adding that she didn't view Booker's most recent remarks as a pivot on his position on passing banking. "This is why I am pleased that the Cannabis Administration and Opportunity Act reflects some of DPA's priorities around equitable banking."
Supernova Women Executive Director Amber Senter told Marijuana Moment that "the flood of capital that will follow the passage of the SAFE Banking Act will not flow to small businesses, in particular the most vulnerable businesses being Black, Brown, and Equity cannabis businesses."
"We can turn to the traditional banking industry and see how Black and Brown business owners are often denied loans from banks. How will banking in cannabis be any different?" Senter said. "The SAFE Banking Act allows large [multi-state operators] to continue to access capital and borrow money cheaper than the rates they're currently borrowing under."
Of course, Booker didn't say that his opinion on legislative cannabis priorities had shifted to such a degree that he'd be comfortable bringing the SAFE Banking Act as drafted to a vote immediately; rather, he more clearly identified how the general reform could help address the economic equity gap and emphasized his interest in building upon the legislation.
"Sen. Booker was one of the first legislators to publicly discuss racial equity in the cannabis industry," Shaleen Title, founder of the Parabola Center, told Marijuana Moment. "His attention to financial services for people with lower incomes and people with marijuana convictions is exciting, because he can focus on legislation that truly provides access to capital for historically excluded communities."
"As written, SAFE Banking isn't that legislation, but with amendments it could be," Title said.
Cat Packer, former executive director of the Los Angeles Department of Cannabis Regulation, said that she appreciates Booker's "ongoing commitment to acknowledge and address the harms of the war on drug."
But like many of her colleagues in the space, she feels that "the SAFE Banking Act, as written, is not similarly committed to equity, and is likely to perpetuate and exacerbate throughout the cannabis industry, the same inequities that exist within the financial services industry generally."
"Without specific provisions to address equitable access to banking rather than just increased access to banking, SAFE is likely to disproportionately benefit large and well-resourced businesses rather than those owned by minorities and persons who are low income or who have past cannabis convictions—those who were most harmed by cannabis prohibition and its enforcement," she told Marijuana Moment.
"Instead of just assuming that simply providing financial institutions safe harbor from federal consequences will increase access and achieve equity, the SAFE Banking Act should be amended to include provisions that specifically seek to ensure fair and equitable access to financial services for all in the cannabis industry," Packer said.
Meanwhile, the bicameral sponsors of the SAFE Banking Act, Reps. Ed Perlmutter (D-CO) and Sen. Jeff Merkley (D-OR), also laid out next steps for the cannabis banking reform at Wednesday's USCC briefing.
Perlmutter also said in a recent interview that he feels the introduction of CAOA alone in the Senate means that lawmakers have overcome a legislative "hurdle" that's kept SAFE Banking from advancing in the chamber.
Meanwhile, the third-highest-ranking Democrat in the Senate, Assistant Majority Leader Patty Murray (D-WA) signed on to CAOA following its introduction, but in a statement, she also stressed that lawmakers must enact the bipartisan banking bill in the interim.
Lawmakers Talk Next Steps For Marijuana Banking As Industry Group Launches New Ads Highlighting Harms Of Cash-Only Sales
The post Is Cory Booker Ready To Embrace Marijuana Banking Reform? New Comments Hint At Possible Pivot appeared first on Marijuana Moment.
420GrowLife
via www.KahliBuds.com
Kyle Jaeger, KahliBuds, 420GrowLife