New Jersey Senate President Files Psilocybin Legalization Bill That Includes Home Grow Option, Unlike Current Marijuana Law
June 24, 2022
#KahliBuds #MMJ #CBD #THC


The leader of the New Jersey Senate filed a bill on Thursday that would legalize the possession, home cultivation and gifting of psilocybin mushrooms for adults 21 and older—with provisions that give adults even more freedoms for the psychedelic than are afforded under the state's current marijuana laws.
The legislation from Senate President Nicholas Scutari (D), who has long championed cannabis reform in the Garden State, would further create a system of licensed businesses to provide psilocybin services in supervised settings.
Scutari's proposed "Psilocybin Behavioral Health Access and Services Act" represents a bold development in the psychedelics reform movement that's rapidly spread in state legislatures and through citizen-led initiatives throughout the country in recent years. And the fact that the legislation is originating from leadership who is intimately familiar with drug policy reform is a firm indicator that this is a serious endeavor.
The beginning of the bill discusses the "high prevalence" of behavioral health conditions that afflict New Jersey adults and the growing body of research demonstrating that psilocybin may serve as a valuable treatment option for certain conditions, as further evidenced by the federal Food and Drug Administration (FDA) designating the psychedelic as a "breakthrough therapy" based on preliminary clinical trials.
"It is the intent of the Legislature to facilitate the establishment of safe, legal, and affordable psilocybin service centers to provide residents of New Jersey who are 21 years of age or older with opportunities for supported psilocybin experiences to alleviate distress, provide preventative behavioral health care, and foster wellness and personal growth," the text of the legislation, which was released on Friday, says.
But beyond creating psilocybin treatment centers, as is being done in Oregon following voter approval of a historic ballot initiative in 2020, the measure would also make it legal for adults to "possess, store, use, ingest, inhale, process, transport, deliver without consideration, or distribute without consideration, four grams or less of psilocybin."
—
Marijuana Moment is tracking more than 1,500 cannabis, psychedelics and drug policy bills in state legislatures and Congress this year. Patreon supporters pledging at least $25/month get access to our interactive maps, charts and hearing calendar so they don't miss any developments.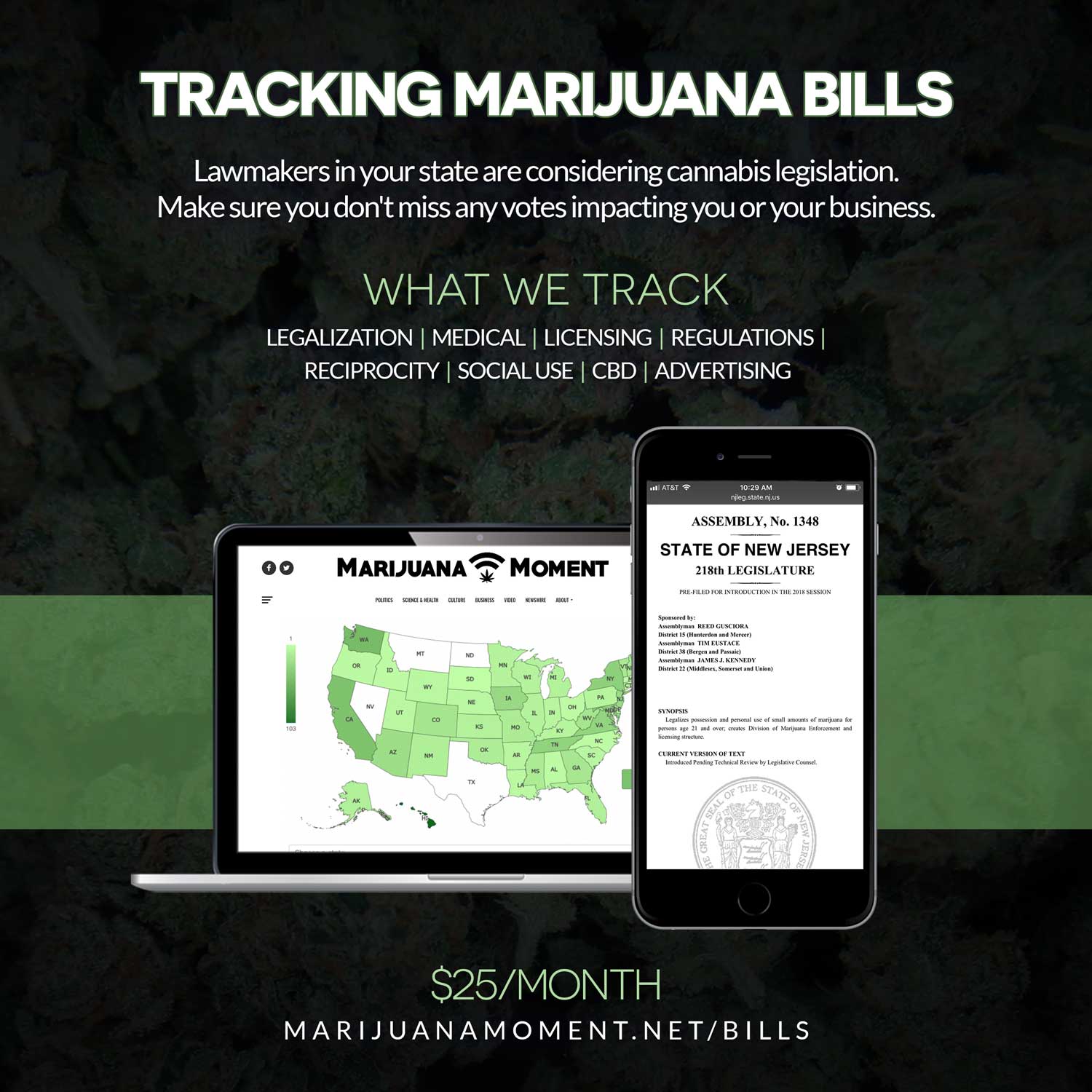 Learn more about our marijuana bill tracker and become a supporter on Patreon to get access.
—
"It will also not be unlawful for a person over 21 years of age to grow, cultivate, or process plants or fungi capable of producing psilocybin for personal use, or to possess the psilocybin produced if the plants and fungi are kept on the grounds of a private home or residence and are kept secure from access by persons under 21 years of age," it says.
That's an especially notable provision, as New Jersey's marijuana laws do not permit adults—or even medical cannabis patients—to grow their own plants for personal use, much to the frustration of reform advocates.
The new bill from the Senate president would significantly expand on legislation he introduced in late 2020 to reduce penalties for possession of up to one ounce of psilocybin that was signed by Gov. Phil Murphy (D) last year.
Under the newly filed legislation, "engaging in this authorized conduct will not: be considered an offense under State law or the laws of any county or municipal governing body; constitute the basis to assess against any person a civil penalty, a civil sanction, or professional or administrative discipline; constitute the basis for detention, search, or arrest of any person; or constitute the basis to deny a person any right or privilege, or to seize or forfeit the assets of any person under State law or the laws of any county or municipal governing body, provided the person is at least 21 years of age."
Additionally, people with convictions for an offense that would be made legal under the bill would be provided the opportunity to petition the courts for resentencing or expungements.
With respect to the psilocybin services program, the bill lays out basic regulations, including licensing requirements. There would be four license types—product manufacturers, service center operators, testing laboratories and service facilitators—in addition to psilocybin workers permits. The state Department of Health (DOH) would be responsible for overseeing the program and licensing.
There's also equity built into the proposed licensing system. Manufacturing, service center and testing applicants would be eligible for a "social opportunity program" if they meet the following criteria: an applicant must be at least 51 percent ownership by people who've lived in an economically distressed area for five of the past 10 years and have more than 10 full-time employees (with more than half of those workers also living in a low-income area).
DOH would be tasked with developing the social opportunity program in coordination with an 18-member Psilocybin Behavioral Health Access and Services Advisory Board that would be established within the department.
Members of that board would have to include the health commissioner, deputy commissioner for public health services, the state attorney general (or their designees). Those would be ex officio, non-voting members. Additionally, the board would be comprised of a representative of the states Cannabis Regulatory Commission and 12 governor-appointed members with relevant experience.
"The purpose of the board will be to provide advice and recommendations to the DOH, upon request or upon the board's own initiative, concerning the implementation of the bill," the text says. Recommendations would be related to issues such as public education, research into the therapeutic potential of psilocybin, guidelines for psychedelic services, health and safety standards and more.
The proposal to create a psilocybin program comes as Scutari and other lawmakers continue working with advocates and stakeholders in the marijuana sector to hash out regulatory issues related to licensing, pricing and more amid the rollout of the state's recreational market, which saw about $24 million in sales in the first month of implementation.
Regarding local control for the psilocybin proposal, the bill says that county or municipal governments "may adopt, by ordinance, reasonable regulations on the operation of psilocybin product manufacturers and psilocybin service centers located within that county or municipality."
"No county or municipality will be authorized to establish any taxes or fees on the manufacture or sale of psilocybin products or the provision of psilocybin services," it states.
The bill has been referred to the Senate Health, Human Services and Senior Citizens Committee.
This is one of the latest examples of state lawmakers following the lead of voters in cities and states across the U.S. who have pushed for an end to the criminalization of natural plants and fungi, as well as access to psychedelics for therapeutic use.
For example, the governor of Colorado recently signed a bill to align state statute to legalize MDMA prescriptions if and when the federal government ultimately permits such use.
The governor of Connecticut signed a large-scale budget bill in May that includes provisions to set the state up to provide certain patients with access to psychedelic-assisted treatment using substances like MDMA and psilocybin.
Maryland's governor recently allowed a bill to go into law without his signature to create a state fund to provide "cost-free" access to psychedelics like psilocybin, MDMA and ketamine for military veterans suffering from post-traumatic stress disorder (PTSD) and traumatic brain injury.
A Massachusetts-based campaign, Bay Staters for National Medicine (BSNM), is also supporting a statewide reform push to force state lawmakers to file legislation to both legalize entheogenic substances for therapeutic use and otherwise decriminalize certain psychedelics.
The Maine Senate approved a bill in April to to create a medical psilocybin program in the state, but the House of Representatives refused to go along.
Also that month, Georgia lawmakers advanced a bipartisan resolution that calls for the formation of a House study committee to investigate the therapeutic potential of psychedelics like psilocybin and make recommendations for reforms.
The governor of Utah signed a bill in March to create a task force to study and make recommendations on the therapeutic potential of psychedelic drugs and possible regulations for their lawful use.
A Missouri House committee also held a hearing that month on a GOP-led bill to legalize a wide range of psychedelics for therapeutic use at designated care facilities while further decriminalizing low-level possession in general.
The Washington State legislature recently sent a budget bill to the governor's desk that includes a proposal to direct $200,000 in funding to support a new workgroup to study the possibility of legalizing psilocybin services in the state, including the idea of using current marijuana regulatory systems to track psychedelic mushrooms.
In March, the Hawaii Senate approved a bill to set up a state working group to study the therapeutic benefits of psilocybin mushrooms and develop a "long-term" plan to ensure that the psychedelic is accessible for medical use for adults 21 and older.
Also that month, the Oklahoma House of Representatives passed a bill to decriminalize low-level possession of psilocybin and promote research into the therapeutic potential of the psychedelic.
Rhode Island lawmakers introduced a pair of drug decriminalization bills in March—including one focused on psilocybin and buprenorphine that would authorize doctors to prescribe the psychedelic mushroom.
An Oregon Senate committee also recently advanced a bill to ensure that equity is built into the state's historic therapeutic psilocybin program that's actively being implemented following voter approval in 2020.
A bill to decriminalize a wide array of psychedelics in Virginia was taken up by a House of Delegates panel in January, only to be pushed off until 2023. A separate Senate proposal to decriminalize psilocybin alone was later defeated in a key committee.
California Sen. Scott Wiener (D) told Marijuana Moment in a recent interview that his bill to legalize psychedelics possession stands a 50/50 chance of reaching the governor's desk this year. It already cleared the full Senate and two Assembly committees during the first half of the two-year session.
Washington State lawmakers also introduced legislation in January that would legalize what the bill calls "supported psilocybin experiences" by adults 21 and older.
New Hampshire lawmakers filed measures to decriminalize psilocybin and all drugs.
Legislation was also enacted by the Texas legislature last year requiring the state to study the medical risks and benefits of psilocybin, MDMA and ketamine for military veterans in partnership with Baylor College of Medicine and a military-focused medical center.
At the congressional level, bipartisan lawmakers sent a letter to DEA in January, urging that the agency allow terminally ill patients to use psilocybin as an investigational treatment without the fear of federal prosecution.
Activists and patients were recently arrested at the DEA headquarters after engaging in civil disobedience during a protest over the agency's refusal to provide a waiver granting those patients access to psilocybin under Right to Try laws.
Illinois Awards $45 Million In Marijuana Tax-Funded Grants To Support Communities Damaged By Drug War
The post New Jersey Senate President Files Psilocybin Legalization Bill That Includes Home Grow Option, Unlike Current Marijuana Law appeared first on Marijuana Moment.
420GrowLife
via www.KahliBuds.com
Kyle Jaeger, KahliBuds, 420GrowLife