New Mexico Lawmakers Debate Marijuana Legalization Bills, With Vote Planned On Monday
February 13, 2021
#KahliBuds #MMJ #CBD #THC


New Mexico lawmakers on Saturday considered a pair of competing bills to legalize marijuana but failed to hold a vote after the hearing ran long. The committee will return to issue on Monday, when members are also expected to take up possible amendments to the proposals.
Lawmakers have introduced a bevy of legalization legislation so far in the state's 2021 legislative session, which is approaching its midpoint and is scheduled to end on March 20. In addition to the two House measures weighed at Saturday's three-hour-long Health and Human Services Committee hearing, three others have been filed in the Senate.
All five bills would legalize use and commercial sales of marijuana and set tax rates between 16 and 20 percent.
Of the two House proposals, the most comprehensive is HB 12, which stretches nearly 200 pages.
"We know that the war on drugs has been an utter failure," Rep. Javier Martinez (D), the bill's lead sponsor, said. "We know that this country and its perceptions to drug use is shifting, particularly with regard to cannabis."
His bill would legalize cannabis for adults 21 and older, allow home cultivation of marijuana, regulate and tax the commercial industry and expunge past convictions for cannabis possession. Tax revenue would fund equity programs for Black and brown communities and support low-income medical marijuana patients.
It's the preferred bill of advocates at the Drug Policy Alliance (DPA) and other organizations because of the emphasis it places on social equity efforts to help communities that have been harmed by the war on drugs.
Emily Kaltenbach, DPA's senior director of resident states and New Mexico, told Marijuana Moment that Saturday's hearing was a good sign for legalization in general. "It shows that legalization will move forward in New Mexico," she said afterward.
"The other thing that's positive that came out of the committee today was that social equity and justice were front and center," Kaltenbach added. "Both from legislators and the public reiterated how important it is for those provisions to be included for whatever bill moves forward."
The second legalization proposal the panel considered was HB 17, a narrower bill supported by the New Mexico Cannabis Chamber of Commerce (NMCCC) and other industry members. It would legalize commercial cannabis and set a flat 20 percent sales tax, which would fund state and local governments. Sponsor Rep. Tara Lujan (D) described the bill as "the most direct route to to a responsible way of legalizing cannabis for people over 21."
The bill lacks the expungement and social equity measures that HB 12 has and only decriminalizes homegrow—growing up to three plants would carry a $500 fine, while growing more would remain a felony. Commercial production licenses would be limited, whereas HB 12 would forbid the state from capping production.
Ben Lewinger, executive director of NMCCC, warned lawmakers against trying to accomplish too much in a single bill.
"That's what drove the approach of trying to include what is absolutely essential into a bill, with the very simple purpose of legalizing adult-use cannabis, protecting patients in the medical program and creating something that had the absolute best chance of making it to the governor's desk," Lewinger said, adding: "The industry as it exists now in New Mexico are the experts in the state on the business of cannabis."
Kaltenbach at DPA, meanwhile, said HB 12 is the better bill.
"What was clear today is that House Bill 12 is the most robust bill that is widely supported," she told Marijuana Moment. "It'll come down to a few provisions here and there, but it's pretty clear that House Bill 12 should be the vehicle in which this should move."
During the question-and-answer portion of Saturday's hearing, the industry representative also argued against allowing people to grow their own marijuana at home, saying that law enforcement would have difficulty ensuring people weren't cultivating too many plants or selling their products into the illegal market.
Both House bills would eliminate taxes for patients in the state's existing medical marijuana program.
House Bill 12: The Cannabis Regulation Act is HAPPENING NOW in the House Health and Human Services Cmte. Watch here: https://t.co/kK0UyGUpJP #nmleg #nmpol

— NM House Democrats (@NMHouseDems) February 13, 2021
A fiscal impact report estimates that Martinez's proposal would generate nearly $16 million in revenue for the state every year, in addition to more than $7 million for local governments. Meanwhile, the Lujan bill is projected to bring in over $48 million for the state and more than $25 million for localities.
Before hearing public testimony, committee chair Rep. Deborah Armstrong (D), a cosponsor of HB 12, took informal polls of members of the public tuned in to Saturday's hearing on Zoom, asking participants to indicate whether they support or oppose the two bills.
A majority said they supported both bills, but HB 12 was more popular. Of 87 votes, 81 percent supported HB 12. Seventy-one percent said they supported HB 17.
The panel adopted a substitute version of HB 12 that updates a number of the measure's provisions. Among the more notable differences is the removal a requirement that consumers be able to prove that marijuana in their possession was purchased legally. It also deletes language limiting paraphernalia sales to legal cannabis stores.
The substitute bill also allows cannabis advertising on billboards. And it stipulates that all advertisements—on billboards or elsewhere—identify the parties responsible for their content and refrain from targeting minors.
Among other changes, the substitute bill would also ensure that tribal governments could participate in the new industry, and it would allow small businesses who obtain so-called microbusiness licenses to begin operating ahead of larger businesses in order to give them a head start.
Perhaps the biggest difference between the two House bills is HB 12's earmarks for social and racial equity spending. Supporters say that point is non-negotiable.
"I cannot stress this enough," Martinez said Saturday. "Racial equity cannot be by the wayside."
Members of the public spoke both for and against the bills, although most speakers favored legalization in general. Many emphasized the importance of racial equity in HB 12, while others argued the money should flow instead back to state and local governments, as in HB 17. Some also expressed concern at the lack of cultivation license caps in HB 12, worrying legal marijuana would flood the market. Others worried that the bill's allowance of home cultivation would fuel illicit sales and put children at risk.
It appeared possible the committee could vote on the bills on Saturday, but lawmakers ran out of time after questioning from Rep. Stefani Lord (R), who quizzed colleagues and industry witnesses on all sorts of issues, including gun rights, youth access, water rights and equity access to licenses. Many of the issues had come up in past legislative discussions around legalization.
Following Lord's questions, which ran nearly 30 minutes, Armstrong, the committee chair, said, "I think it's obvious we won't get to all the questions or a vote today."
Lord apologized for taking so much of the committee's time. "I just thought my questions were really important so that the public knows what the bill's about," she said.
On the Senate side, three separate legalization bills—SB 363, SB 13 and SB 288—are currently awaiting consideration by the Senate Tax, Business and Transportation Committee.
SB 363 is similar to HB 12, while SB 13 is the companion bill to the more limited House bill, HB 17. SB 288, meanwhile, is a separate proposal from Republican Sen. Cliff R. Pirtle. It would prevent cannabis retailers from being within a mile of one another and would keep homegrow illegal.
Each of the five bills shares the same title, the Cannabis Regulation Act.
—
Marijuana Moment is already tracking more than 600 cannabis, psychedelics and drug policy bills in state legislatures and Congress this year. Patreon supporters pledging at least $25/month get access to our interactive maps, charts and hearing calendar so they don't miss any developments.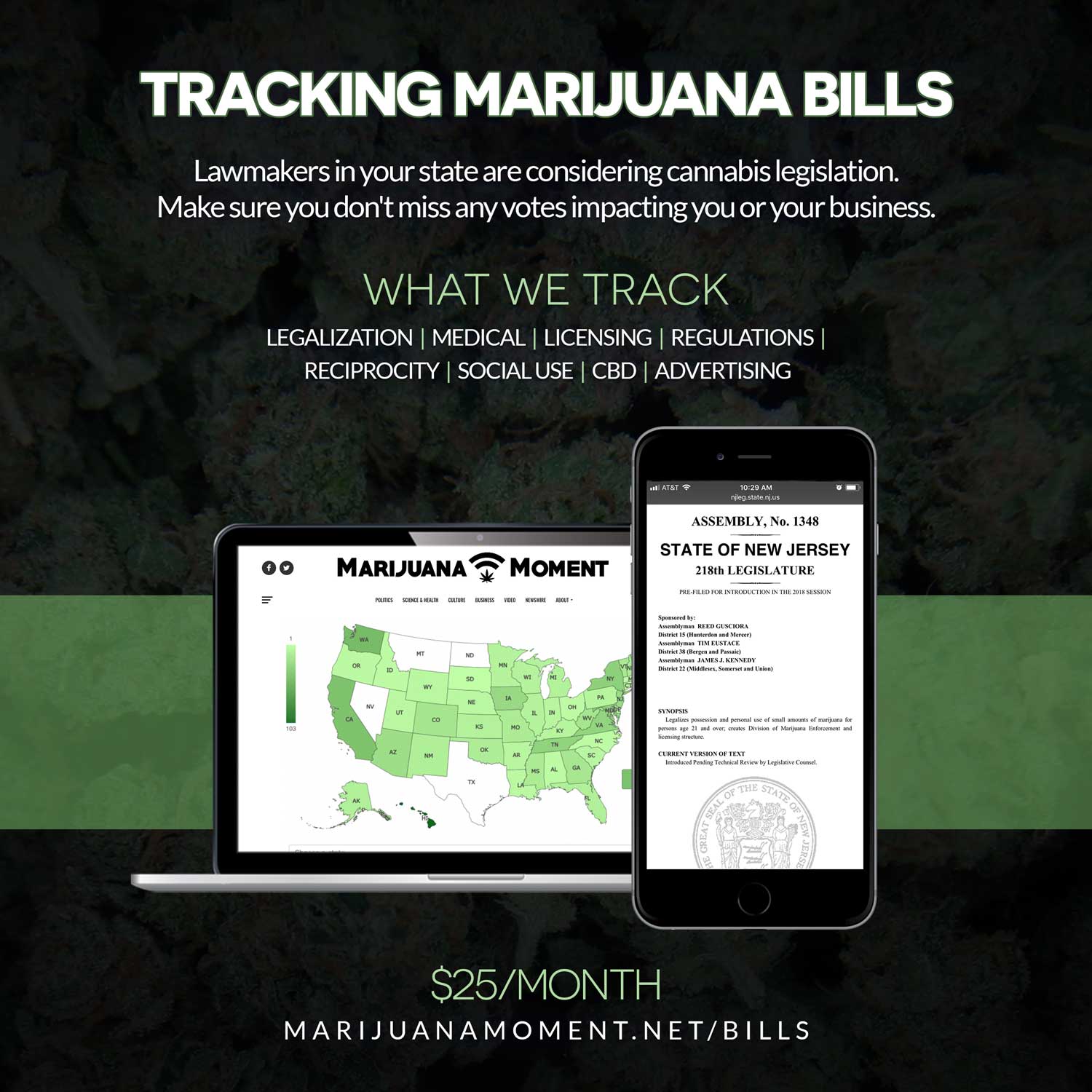 Learn more about our marijuana bill tracker and become a supporter on Patreon to get access.
—
It's not yet clear when the Senate measures will be heard—or, if multiple bills with different provisions pass, how lawmakers would resolve those differences.
In an interview with the Santa Fe Reporter, Sen. Daniel Ivey-Soto (D), said Senate lawmakers would be watching Saturday's House hearing to see how that chamber proceeds. Afterward, he said, "we're going to have a conversation amongst all the sponsors to see if we can align everything and figure out what the structure is in a coordinated way."
Senate Majority Leader Peter Wirth (D), meanwhile, told the podcast Growing Forward that he plans to coordinate on the Senate side in order to craft a single proposal.
At Saturday's hearing, lawmakers stressed that the majority of the bills' proposals are the same, noting that conversations will continue about specifics.
"I believe in the sausage-making that these bills will merge into a hybrid at one point," said Rep. Roger Montoya (D), noting that he likes provisions in various bills.
Montoya also said he'd like to see an amendment to remove fines and fees for juveniles caught with marijuana. Montoya is the sponsor of HB 183, a separate measure to eliminate fines and fees for some juvenile crimes, and he said both House marijuana bills would be in conflict with that measure.
Sponsors of the bills said they would be open to working with Montoya to ensure the bills weren't contradictory, but they weren't able to discuss the details of amendments before the hearing ended and are aiming to sort the issue out by Monday's meeting.
For her part, HB 17 sponsor Lujan said that "what it's going to take to get this right for our state" is a collaborative approach "to bring all things together."
Legalization has the support of Gov. Michelle Lujan Grisham (D), who included it as part of her 2021 legislative agenda and has repeatedly praised its potential to boost New Mexico's economy, especially in light of the pandemic.
"A crisis like the one we've experienced last year can be viewed as a loss or as an invitation to rethink the status quo—to be ambitious and creative and bold," the governor said in her State of the State address last month. "That kind of thinking includes, of course, recreational cannabis and the tens of thousands of jobs and hundreds of millions in new revenue it will bring to our state."
Rep. Andrea Romero (D) echoed that sentiment at Saturday's hearing. "Why [legalization is] so critical this year," she said, "and why it matters so much to New Mexico moving forward, is that we are in an economic tailspin as far as what's happened post-COVID."
Lujan Grisham supported a bill last year to legalize cannabis for adult use, which passed one New Mexico Senate committee only to be rejected in another. In 2019, after the House approved marijuana legislation to create a state-run cannabis sales system that ultimately died in the Senate, the governor created a working group to study legalization and issue recommendations.
The chances for legalization this year are boosted by the fact that several anti-legalization Democrats, including the Senate president pro tem and the Finance Committee chair, were ousted by progressive primary challengers last year.
New Mexico is increasingly surrounded by legal cannabis markets. It shares a border with Colorado, the first U.S. state to legalize commercial marijuana sales, and also borders Arizona, where retail sales kicked off last month.
"We know that legalization of adult-use cannabis is coming," Martinez said at Saturday's hearing. "It's not a matter of if it's a matter of when. And I'm not just talking about here in New Mexico, I'm talking across the country."
Cannabis is also expected to be legalized across the southern border, in Mexico, where national lawmakers are facing a Supreme Court mandate to end marijuana prohibition by April.
Polling indicates that New Mexico voters are ready for the policy change. A survey released in October found that a strong majority of New Mexico residents are in favor of legalization with social equity provisions in place, and about half support decriminalizing drug possession more broadly.
Minnesota Marijuana Legalization Bill Gets First Hearing Next Week
Photo courtesy of Kimberly Lawson
The post New Mexico Lawmakers Debate Marijuana Legalization Bills, With Vote Planned On Monday appeared first on Marijuana Moment.
420GrowLife
via www.KahliBuds.com
Ben Adlin, KahliBuds, 420GrowLife