Congress will legalize cannabis despite Biden, Dem senator says (Newsletter: July 14, 2020)
July 14, 2020
#KahliBuds #MMJ #CBD #THC


Dr. Oz: DEA & FDA blame each other for keeping marijuana illegal; KC mayor speaks about drug reform plans; WY cops bust hemp activists
Subscribe to receive Marijuana Moment's newsletter in your inbox every weekday morning. It's the best way to make sure you know which cannabis stories are shaping the day.
Your support makes Marijuana Moment possible…
This issue of Marijuana Moment, and our original reporting that is featured in it, are made possible by the generous support of 466 Patreon sponsors. Cannabis industry professionals receive valuable rewards for pledges of $25 and up.

Check out the perks of being a sponsor on our Patreon page.
Marc Loy: "I'm not an industry professional but I have benefited greatly from the legalization of medical marijuana in my state. I believe knowledge is power and the Marijuana Moment newsletter is the single best source of knowledge regarding local, state, and federal trends. I also believe Tom Angell's work has ripple effects far beyond just educating his readers. I became a patron to help amplify those ripples. I want other individuals like me to know there are committed folks trying to improve the lives and economies of our friends, neighbors, and communities. I also want politicians at every level to know we're paying attention."
https://www.patreon.com/marijuanamoment

/ TOP THINGS TO KNOW

Sen. Ed Markey (D-MA) said a Democratic Congress will legalize marijuana in 2021 despite opposition from the party's presumptive presidential nominee, Joe Biden.
"We'll have the majority of the votes in the United States Senate. And I know [Senate Minority Leader Chuck Schumer (D-NY)] has moved in that direction, he'll be the majority leader in January. I think we'll have votes to just move it, and the science has moved there."
Kansas City, Missouri Mayor Quinton Lucas (D) spoke to Marijuana Moment about his recently approved measure to remove cannabis from the local code. Now he's partnering with mayors in other cities who want to do the same thing and is working to more broadly end the war on drugs locally. He also criticized presumptive Democratic presidential nominee Joe Biden's plan to force people caught with drugs into treatment.
"The drug war has been an abject failure. I live in a majority black community, was raised in a majority black community and proud to be from it. When I look at the problems on my streets—when I'm looking at what's going on right now and people addicted to heroin, people addicted to any number of things—our drug laws aren't helping. Our drug laws aren't helping people find better treatment."
Dr. Mehmet Oz claims that he spoke to officials at the Drug Enforcement Administration and Food and Drug Administration who want to legalize marijuana but are blaming the other agency for keeping it illegal.
"I called the DEA—they said, 'we don't want this to be illegal. Your government ought to change that.'"
The Wyoming Division of Criminal Investigation is accusing a mother and son who successfully lobbied lawmakers to legalize hemp of illegally growing marijuana. Now, top political officials— including the state treasurer—are prepared to defend them in court.

/ FEDERAL

The U.S. Court of Appeals for the Ninth Circuit ruled that a congressionally approved appropriations rider protects two California men from being sentenced under federal law for cultivating medical cannabis.

The Federal Bureau of Investigation requested additional records from Independence, Missouri officials in what appears to be the latest step in an investigation into utilities contracts and medical cannabis regulations.

House Rules Committee Chairman James McGovern (D-MA) said he hopes presumptive Democratic presidential nominee Joe Biden "continues to evolve" on marijuana legalization after the election.

Rep. Alexandria Ocasio- Cortez (D-NY) tweeted, "It's virtually impossible to pay rent on $8/hr. And when you are teenage boy in a fatherless home (his dad passed away), there is a drive to be 'the man of the house.' To help your mom. And what makes money fast when a full time job doesn't pay enough to live? Selling weed.

Florida Democratic congressional candidate Richard Thripp tweets, "We should legalize marijuana in the United States of America, from sea to shining sea."

/ STATES

Hawaii lawmakers sent Gov. David Ige (D) a bill that would ban smokable hemp and CBD-infused edibles.

Utah Democratic gubernatorial candidate Chris Peterson tweeted, "In 2018, Utahns voted for Medicaid expansion and legalization of medical cannabis prescribed by a doctor. But the legislature repealed and replaced both with weakened laws that ignored voters. If I am elected, I will respect and protect successful ballot measures. #TimeforChange"

A Nevada judge is hearing a case challenging the state's marijuana business license awarding process.

Missouri regulators posted information about how many medical cannabis business facility minimum standards reviews have been completed and are still pending.

Oklahoma regulators published a video on how medical cannabis patient cards can be renewed.

Colorado's Retail Marijuana Public Health Advisory Committee will meet on Monday.

—
Marijuana Moment is already tracking more than 1,500 cannabis bills in state legislatures and Congress this year. Patreon supporters pledging at least $25/month get access to our interactive maps, charts and hearing calendar so they don't miss any developments.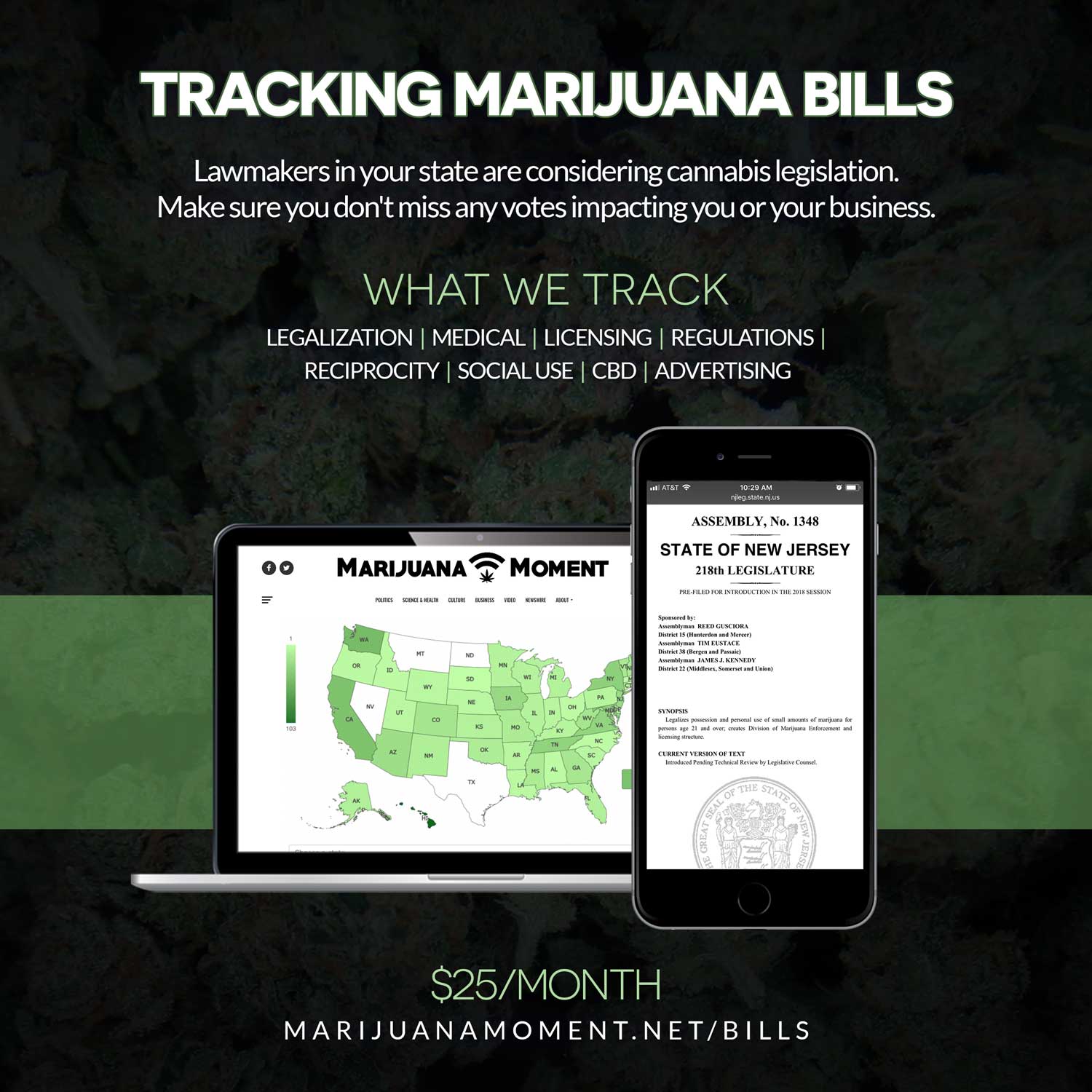 Learn more about our marijuana bill tracker and become a supporter on Patreon to get access.
—
/ LOCAL

Mendocino County, California and a resident are being sued in federal court by a couple who say officials and their neighbor conspired to block their medical cannabis cultivation license application.

All three Democratic candidates for Maricopa County, Arizona attorney say they would decline to prosecute minor marijuana cases.

/ INTERNATIONAL

Thailand's ministry of public health signed a memorandum of understanding on medical cannabis production and processing in Saraburi province.

/ SCIENCE & HEALTH

A review suggested "cannabis as a promising alternative to opioids and supports the medical use of cannabis as a safer first-line pharmacological treatment for chronic pain compared to opioids" and concluded that "the use of cannabis as a safer alternative to opioids can promote social change directly and indirectly across a variety of social and economic dimensions due to increased access to medication at reduced cost, elimination of opioid-related death due to overdose, diminished individual and social harms related to cannabis."

A study found that "cannabis use is increasing among American adults overall, yet is disproportionately common among Americans with anxiety especially among those residing in states where cannabis has been legalized."

/ ADVOCACY, OPINION & ANALYSIS

The American Medical Association joined the Drug Policy Alliance in signing an amicus brief supporting the right of a safe consumption site for illegal drugs to open in Philadelphia, Pennsylvania.

/ BUSINESS

Arcview Market Research and BDSA forecast that worldwide legal marijuana industry revenue will grow another 38% to $20.4 billion in 2020.

Caliva received a Paycheck Protection Program loan from the Small Business Administration.

A deal for New Frontier Data to acquire Civilized fell apart.

Canopy Growth Corp. laid off another 30 employees.

iAnthus Capital Holdings, Inc. announced a restructuring support agreement that will reduce outstanding debts and shrink existing shareholders' ownership to 2.75% of the company's equity.

Veritas Farms, Inc. announced that the chairman of the board of 1-800-PET-MEDS joined its board of directors.

Colorado retailers sold more than $192 million worth of marijuana products in May.

The New York Times looks at how marijuana edibles sales grew during the coronavirus pandemic.

/ CULTURE

The Major League Soccer Board of Governors is reportedly likely to approve CBD sponsorships by the end of the year.

Rapper B Real tweeted, "Stand with the @lastprisonerprj to make sure the promises to release non-violent cannabis offenders. People that made the 'release on day 1 of legalization' promises as usual full of shit!"
Make sure to subscribe to get Marijuana Moment's daily dispatch in your inbox.
The post Congress will legalize cannabis despite Biden, Dem senator says (Newsletter: July 14, 2020) appeared first on Marijuana Moment.
420GrowLife
via www.KahliBuds.com
Tom Angell, KahliBuds, 420GrowLife